Complete Power Steering Rack and Pinion Assembly Freightliner Cascadia 2006-2014 - Made in USA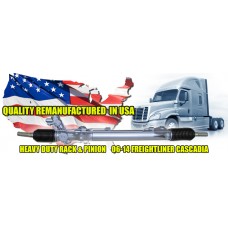 PLEASE EMAIL US AT sales@BestPartsOnline.com or CALL 714-715-6062.
Due to limited availability, we will only sell to experienced customers and those who will return their cores.
NOTE: Due to the size of this item, we cannot ship priority mail. Therefore, STANDARD FREE SHIPPING is either UPS or FEDEX Ground (1-5 days within Continental USA)
THIS FITS ALL FREIGHTLINERS USING RACK AND PINION SYSTEM - GUARANTEED!
**Money Saving Tip: If your Steering Rack is NOT leaking Oil and you are experiencing "intermittent hard-to-steer": it is most likely the Power Steering Pump going bad and not giving consistent pressure to the Rack.
Want reviews, please visit our eBay store and read our reviews. 100% Positive Feedback. TOP RATED PLUS SELLER!
Complete Power Steering Rack and Pinion Assembly for Freightliner Cascadia 2006-2014
Professionally Remanufactured in USA! All of our Rack and Pinions are air leak tested to assure reliable performance and hydraulically tested.
Unlike other people, we replace 100% of the Inner Tie Rods, Rack Boots and ALL Sealing elements with brand new parts!
We now have the bushings! So, we will replace them as needed.
We are highly selective of the cores we rebuild, and this means no headaches for you or us down the road.
We now include Printed Installation tips! They will help you avoid mistakes others made before!
Core Charge of $500 already included into the price. We will not accept cores that are damaged in accidents such as but not limited to bent or broken shafts because they cannot be rebuilt.
If your core is in good condition, then please use the FEDEX RETURN LABEL to return to us. After receipt, we will refund you $500*.
*If there is a slight "play," we might be able to fix it but refund is $100 less. If there is severe "play," no refund.
If you are willing to pick-up the new rack and drop off your core at our Orange County, California location, email us at sales@bestpartsonline.com or call 714-715-6062 for special local discount.

Looks like it will also work for all Rack and Pinions that are on

FREIGHTLINER CASCADIA 2006-2014
FREIGHTLINER CENTURY CLASS 2006-2014
FREIGHTLINER CORONADO 2006-2014
FREIGHTLINER COLUMBIA 2006-2014
FREIGHTLINER CLASSIC 2006-2014
FREIGHTLINER CLASSIC XL 2006-2014
WARRANTY: 1 Year Free Replacement Warranty
SORRY! 30% DEALER DISCOUNT DOES NOT APPLY TO HEAVY DUTY PRODUCTS!
Related Products